Try Patharity on Your Scope
All for less than $5K, get a 12 MP AI-enabled camera and software package that supports data analysis, whole-slide imaging, auto-z-stacking, and more. So that you can
Work directly from your microscope, and avoid a costly, time-consuming scanner
Acquire high-quality images for consults, conferences, research and teaching
Test and even build capable AI models with or without the cloud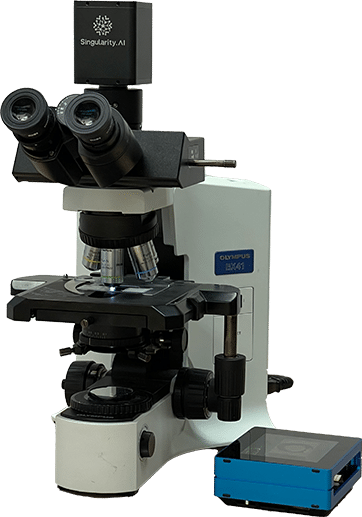 Lab Directors
Clinical lab directors choose Patharity because:
Value: The Patharity camera can turn your existing microscope into an efficient, AI—enabled workhorse without need for motorized stages or additional software or server.
Flexibility: WiFi or wired display options with any device for brightfield, darkfield and fluorescence imaging, zero footprint with no software to install
Future-proof: Use only what you need to adopt AI at your own pace
Pathologists
Pathologists choose Patharity to:
Real-time, one-click Ki-67 counts
Work ergonomically and save time with auto-focus and auto z-stacking
Digitize partial or whole slides without the cost of a new scanner
Collaborate in real time and improve remote teaching
Photograph thick tissue or cytology specimen
Academia
Researchers and educators leverage Patharity to:
Automate image acquisition and use AI-enabled image analysis to accelerate discovery
Interactively communicate and collaborate in the lab, classroom and remote settings
Expose students to the power of AI-enabled quantitative image analysis with a simple AI implementation

Approachable Innovation
Innovation without disruption means you don't need to upend your workflow to adopt this simple but powerful upgrade. Patharity is designed to integrate with your current tools and processes – not to replace them.

Intelligent Capabilities
Use what you need – from simple to cutting-edge, Patharity provides easy access to features like WSI on-microscope and real-time AI image analysis without complex stand-alone software or equipment.

Absolute Efficiency
One-click autofocusing, WSI, auto z-stacking, automated stitching, and cloud-based sharing with Patharity offer you the means to automate common tasks and accelerate workflows to maximum efficiency.